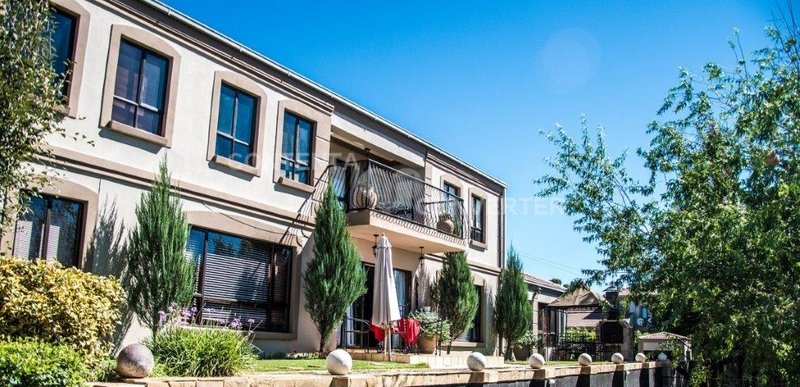 Andante Guesthouse is situated on a hill in a quiet and tranquil area of Bloemfontein
Andante Guesthouse is close to Mimosa Shopping Mall, Banks, Medi Clinic Hospital, Restaurants, Sand du Plesis theatre, Free State University, Free State Technicon, National Zoo and Museum, Schools, Free State Stadium, Springbok Park sports grounds and Major conference centres.
There is a bar fridge under the counter in the living area. The beers and liquor in the bar area are complimentary and your are welcome to it.
We serve breakfast that consists of fruit, yogurt and cereals with toast, eggs and two meats. Fruit juice, coffee and tea.
There is a safe available, should you require this service.
We also have braai facilities available -just let us know
There are some great restaurants at the Prellersquare shopping centre which are close and convenient.
AccommodationRoom A
Luxury Suite only Double bed. This room is our largest room. It leads onto a balcony and has a open plan large bathroom. All our rooms have their own satalite tv decoder and this suite has a small living area.
Room B
Single Beds. This room has no bathroom and we normally suggest it for guests with children older than twelve. This children the share the parents bathroom. Either room C or room D would be ideal for parents.
Room C
Double or Two Single Beds. This room can double as either a king size bed or two single beds. It has on suite facilities and leads onto a balcony for smoking guests. We suggest this room if you make use of room B for your children.
Room D
Only Double Bed. This room has a double bed. On suite bathroom as well as a small lounge area. Most suitable to take if you are making use of room B for children over twelve. Because of it size it is most suitable for taking when small children will join you in the room.
Room E
Double or Single Room. This room can only be used by non smokers as it has no balcony facility. The room can double as a double bed or two single beds. Can also be used with room B if children will be using room B.
Room F
Double Room only. This room we use for honeymoon couples. The room has its own private balcony and open plan on suite bathroom. As with all our rooms the bath is big enough to accommodate two people.