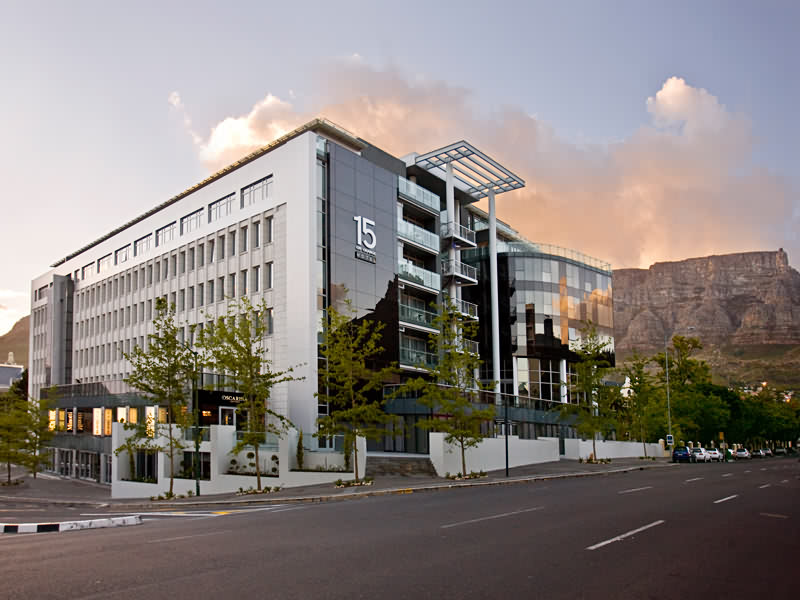 Distinctive architecture, decor that defies categorization and a guest service experience extraordinaire sets the
15 on Orange Hotel
, Autograph Collection, apart from any hotel of its kind.
This elegant experience begins with an engineered stone red carpet reception set in crisp white Volakas marble.
Discover the glamourous urban oasis that is 15 on Orange Hotel, Autograph Collection. With an unparalleled location in Gardens, a short distance from the city center, our hotel allows for convenient access to Cape Town`s world-famous landmarks.
Exclusive shopping awaits guests at the selection of exclusive retailer outlets while the world-class shopping paradise of the Victoria and Alfred Waterfront is merely minutes away.
Fine Dining:
The 15 on Orange Hotel dining experience caters to each guest`s unique tastes with a restaurant, cocktail bar, health bar, atrium lounge and a private dining area.
Accommodation at 15 on Orange Hotel:
No detail is spared to ensure optimum comfort and luxury in your spacious suite. Designer furniture, with a sophisticated stretched sofa, is complimented by the cool dappled tones of the walls and the warm plush carpet. Adjust the lighting to your suit your mood as you enjoy sweeping views over the city or Table Mountain.
Suites are equipped with a host of first-class leisure and entertainment amenities including two flat screen televisions, a DVD player and satellite television channels. Enjoy one of the complimentary DVD's that we`ve placed in your room or choose from our DVD Library selection that is available at the reception desk.
Business travelers can make use of the in-room work station with international plug points, FREE wireless internet access, touch dial telephone and a lengthy mikasa ebony desk.
Sandblasted glass doors lead into your sumptuous en suite bathroom, which features a stylish, oversized bath set behind a sparkling Marmaran glass-encrusted wall, a raindrop shower, a double vanity set in honey onyx and a touch-dial telephone. Set the lighting to enjoy a candlelight effect as you soak in the tub.
Your accommodation is equipped with every convenience to ensure a luxurious stay:
- Extra cupboard space
- Extra length King-size beds, with super-soft 350 thread count cotton percale linen
- International electrical adapters
- DVD Player
- 4 DVD`s - Action, Adult, Comedy and Drama
- Touch-Dial Telephone
- S atellite Television Channels
- En Suite bathroom
- Separate Raindrop shower
- Lengthy mikasa ebony desk - can be used as a in-room work station with international plug points and free wireless internet access vSoundless climate control air-conditioning
- Fully-stocked mini bar
- Tea and Coffee making facilities
- Safe Large enough to store a laptop
- Hairdryer
66 Deluxe Suites
- 2 Flat Screen televisions - one opposite the bed and one opposite the seating area
- Double Vanity set in honey onyx - lighting can be set to enjoy a candlelight effect
- Size - 49.71 - 71 Square Meters
- Exterior View - either mountain facing or town facing
- Additional Seating Area
15 On Orange Hotel Activities:
15 on Orange Hotel, Cape Town, is in close proximity to all this exciting metropolis has to offer! Hugged by one of the most famous landmarks in the world and framed by miles of untouched shoreline.
The meditteranean climate ensures that you look forward to hot summers on the beach, the perfect time to explore this great city and its many attractions.
The most renowned feature of Cape Town is Table Mountain. The city is located on its slopes, and there's a revolving cable car that carries visitors to the top of the mountain for an incomparable view.
One of Cape Town's most memorable destinations is the Victoria and Alfred Waterfront, situated alongside the harbour, with its immense selection of shops, excellent restaurants, multiple cinemas, craft markets, pubs, and other activities. The Waterfront is a working harbour and it is no surprise to often see fishing boats and luxury cruise liners berthed side by side.
The Two Oceans Aquarium is a wonderland of marine life where children of all ages can get up close and personal with some of the ocean's most elusive creatures.
The metropolitan area spans from the southern peninsula to the Cape Winelands towns of Stellenbosch, Franschhoek, Paarl and Worcester. Here you will find some of the oldest and finest wine estates in the country.

Click to display the map