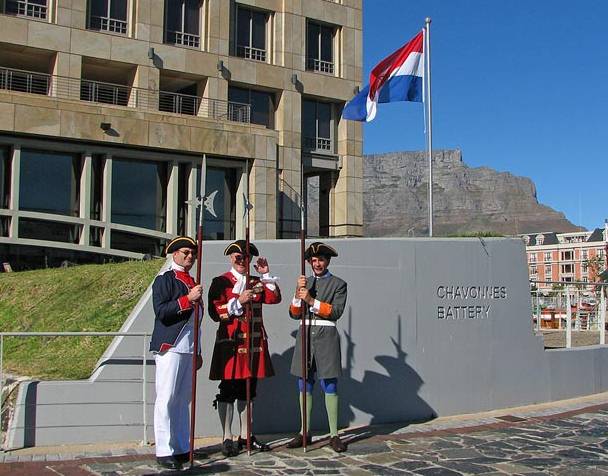 Visit the Chavonnes Battery Cannon Museum, Clock Tower V&A and step back into
Cape Town
of 280 years ago. When completed in 1726, there was no Waterfront, no Clock Tower and no Alfred Basin.
Watchdog at Cape Town's front door for almost 150 years, the Chavonnes Battery was built over when the Alfred Basin was constructed. Like buried treasure, it was uncovered again and turned into a museum by the BOE/Nedbank, in 1999.
At the Museum you go right into the depths of the BOE/Nedbank building and see how the battery looked when it was built. Experience the ancient walls of Table Mountain rock and granite, cemented with a mixture made by burning sea-shells on Robben Island, still there after almost three centuries.
Touch the cannons and see the different types of cannon balls and uniforms. Wear an 18th Century Tricorne hat and experience how people dressed at this bustling halfway stop between Europe and the East.
See how its soldiers loaded and fired the cannons that made it so terrifying to the hostile ships on the lucrative Spice and Slave route.
From the ramparts outside, see the smoke from Cape Town's noon-gun firing on the hill behind. On special occasions we also fire our cannons. Have a photo taken of you firing muzzle-loaded cannon wearing an 18thCentury Tricorne hat.
The museum is ideal for functions and special events. Indoor and outdoor flow on to the prestigious Clock Tower square with ample parking and in-house catering available.
Historic Walking Tours conducted daily.
The museum is open 7 days a week from 9am-4pm at the Clock Tower (V&A Waterfront). Entrance is R25 for adults, Pensioners R20, Kids R10 and under 5 FREE
Contact Details
Tel: 021 416 6230
Email: marketing@chavonnesmuseum.co.za
Where to Stay in Cape Town
Cape Town Accommodation
options are numerous; with a large variety of different types spread throughout the Peninsula.
Cape Town Things to Do
Cape Town offers other
Museums
as well as a myriad of other
Things to Do
and places to see, whatever your tastes, inclinations or budget.