Classic colonial décor, refined simplicity, deep verandahs and sweeping views capture the history and romance of the bygone era. Eight luxurious Safari tents, each with indulgent bathroom, out door shower, private verandah and personal bar provide a secluded retreat in an unspoilt savannah bushveld teeming with game and birdlife. Sumptuous meals, personalised service, utter comfort and the passionate attention to detail ensure beautiful memories of Africa.
Celebrate nature, life and its myriad of small moments with us. Venture into the wilderness on guided walks, game drives or 'elephanting' and learn with us about nature's intricacies and wonders. Cast the waters for tigerfish or unwind with dusky birdcalls, magical moonrises or a gently boat cruise.
Pongola Game Reserve
The Pongola Game Reserve was first proclaimed in 1894 and is the second oldest reserve in the world. It is a sanctuary to a large variety of wildlife, including giraffe, wildebeest, zebra, impala, hyaena, buffalo, rhino and leopard.
Exactly 100 years ago after the last sighting of elephant in the Pongola area, two breeding herds were reintroduced. Birdlife is prolific due to the diversity of habitats, with in excess of 350 species recorded.
Safari Lodge
This 16-bedded lodge captures the history and romance of the "colonial era". The sweeping views and tranquil setting provide the venue for a unique African experience.
Excellent cuisine and personalised service are offered.
Rooms:
Eight luxurious safari-style tents, each with en-suite bathroom, outdoor canvas shower, private veranda and personal bar, ensure a secluded retreat in unspoilt savanna bushveld teeming with game and birdlife.
Insect gauze on windows and door tent-flaps, overhead ceiling fans, mosquito nets and crisp white percale bed linen ensure comfort as well as old world romance.
White Elephant Safari Lodge Activities:
Activities
Journey into the bush on a game drive or a bush walk with one of our professional guides who will share with you what we have learnt and explore together that which we still need to learn.
A cycling safari on dusty African roads in the late afternoon sun will heighten your senses and invigorate the soul.
Gentle boat cruises on lake Jozini add a new dimension to game viewing and birdwatching.
From the novice fisherman to the expert anglers fishing with a fly, Lake Jozini offers you the ideal location for tigerfishing of a lifetime, while you enjoy the pristine wilderness setting that compares favorably to the wilds of Lake Kariba in Zimbabwe
Rhino walks are an exhilarating experience, allowing you to gain a closer understanding of these prehistoric mammals, their ways and their battle against extinction.
'Elephanting' will give you so much more than the mere thrill of sighting elephants. As you participate in our Research Programme, you will learn to 'see' elephants differently.
Discover the mystery and magic of zulu culture by taking part in our Umgano or Uthambothi tours. A visit to Dumazulu Cultural Village and Illala Basket Weavers can be arranged, as well as visits to rural schools, zulu chiefs and herbal doctors.
White Elephant Safari Lodge Map:
Clothing & Accessories:
Khaki clothing and good walking shoes are advised for those guests who wish to participate on game activities.
During the summer months (October to March) cool cotton clothing is advisable as well as anoraks or raincoats as afternoon thunderstorms often prevail.
Jerseys and pullovers are suggested for the winter months of May through to August. Hats and sunscreen are recommended for the use throughout the year.
Health & Climate:
White Elephant is officially located on the periphery of a low risk malaria area in northern Zululand. Due to low annual rainfalls (+ 400 mm) White Elephant has very few mosquitoes. The mosquito that transmits Malaria is absent from White Elephant and Pongola Game Reserve.
Other Accommodation near White Elephant Safari Lodge:
Accommodation options within 8km from White Elephant Safari Lodge include: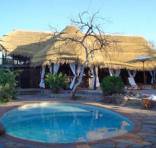 White Elephant Bush Camp is situated in the beautiful Pongola Game Reserve in Northern Zululand. The Game Reserve lies on the western Side of the majestic Lebombo Mountains and the shores of the spectacular lake Jozini.