Umnenge Lodge is a newly built African guesthouse, offering luxury accommodation and situated on the rugged cliffs of De Kelders near Gansbaai.
Umnenge offers family and child friendly accommodation.
"Umnenge" is a Xhosa expression meaning `whale in the bay` and refers to the Southern Right Whale which can be seen clearly from Umnenge Lodge frolicking in the waters of Walker Bay from July to December each year.
We have the rocks, beach and caves on our doorstep. Go for a walk, or a run, along the hiking trail, enjoy the fynbos and flowers in the nearby Nature Reserve. Whales, white shark diving, fishing, horse riding are just a few of the experiences you can enjoy in the area.
Accommodation
There are two beautifully designed bedrooms, both en-suite with complimentary tea and coffee and furnished for an African king or queen.
The bedrooms are airy and spacious with queen size beds and a fully stocked mini bars to tease you with their delights.
Our large marble bathrooms have walk-in showers and big luxurious designer baths. Both rooms have their own sea view balconies, where you can relax and watch the whales.
Bring the children as they are welcome. We offer a safe environment and a jungle gym to keep them active and lots of kiddie's toys and bicycles. With in-house baby changing facilities, car seats and prams, your holiday will be a breeze.
Dinner is free for the under 4`s except for little ones that need special food and children under 6 years, sharing with parents, stay for R 100-00.
Facilities
- Bar and Lounge with sea view
- Braai facilities
- Jungle gym with sand pit
- Secure play area
- Safe garden with edible berries, herbs, fruit and veg
- Modern African Dining room
- We have a variety of TV channels for lazy afternoons after a long day at the beach.
- African curio shop
- Fireplaces and under floor heating to keep you warm
- Ceiling fans to keep you cool
- Wireless internet available anywhere in the guesthouse - bring your laptop and play, or the office computer is available.
- When you book in your car will be washed and vacuumed for you, at no cost.
- Enjoy a glass of our Umnenge house wine from the Cape or a glass of Umnenge sparkling bottled water.
- Enjoy jams, marmalades or green figs with syrup from our kitchen.
African Cuisine
We believe that warm hospitality and memorable food are as important as watching the whales. Enjoy true African cuisine in our Lodge.
Enjoy an African braai in a traditional African fire-pit while watching the whales. A joint of meat will be turning on the spit or a fish roasting over the coals, while you sip Cape wines and take in the sunset.
You will be infused with the essence of Africa.
Services
- Dinner on request
- Non smoking rooms available.
- Children 6-11 years pay 50% of normal daily rate.
- Fully serviced.
- Dry cleaning service available.
- Prams, car seats available for up to 5 years.
- Guests can be picked up from the airport.
- Laundry service is also available.
Boat Charters
The Umnenge Charters boat has everything you need for fishing. The skipper knows where all the good fishing spots are and his aim is to make this a memorable fishing trip.
For specialized diving charters, boat and shore dives, contact us and we will guide you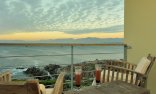 Small intimate guesthouse situated on top of the rugged coastal cliffs of De Kelders, overlooking the picturesque Walker Bay. The 5 spacious Rooms are thoughtful yet stylishly decorated each with sea view and a small private balcony.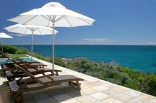 Cliff Lodge offers luxurious accommodation on the sea front of De Kelders, near Gansbaai. Sea views, whale watching and shark cage diving.