The Sunbird Guesthouse & Events Venue Activities:
Extra info about surrounds:
The Sunbird is centrally located in the historical battle fields of the Anglo-Zulu war. A memorial at the site commemorates the 13 British soldiers who lost their lives during the battle. Zulu casualties were estimated at around 1,000 of a 10,000 strong force. Actually a Zulu expression, meaning "swallower of the elephant", Gingindlovu was also the site of an earlier battle between V and his brother Mbulazi in 1856, which ultimately decided the kingship of the Zulu Nation. The victor was the historically well known, King Cetshwayo, who then built a kraal here, naming it Gingindlovu.
Situated off the R102, only 7.4 km from the N2, the highway linking the Ports of Durban and Richards Bay, Gingindlovu is the first town reached after crossing the Tugela River. A small commercial centre and the junction for a branch railway line to Eshowe, The Sunbird's visitors are within easy reach of all the Zululand attractions, the closest being Amatikulu Nature Reserve, a mere 20 kilometres away from the town.
Amatikulu Nature Reserve covers a total area of 2100.3 Ha, and is located on the southern bank of the Amatikulu river. The reserve is flanked by an uninterrupted strip of sandy beaches and coastal dunes which make their transition into a series of undulating sandy hills as one moves further into the reserve. The Amatikulu Nature Reserve consists largely of grasslands, riverine, bush thickets, and swamp forests which makes itself home to a large variety of wildlife which include giraffe, impala, zebra, Kudu, and reedbuck which are reasonably easy to come across, while smaller creatures like blue duiker, small spotted genet, and various species of mongoose prefer to be elusive. The reserve also proves to be a bird watching paradise, boasting an impressive variety of some three hundred species, making it a highlight of the Zululand Birding Route.
Other outdoor activities in the area include canoeing on the Amatikulu Estuary and Nyoni River, and boating though crafts with engines larger than 15 hp are not permitted. The beach is rather easily accessible, and provides good opportunities for surf angling. Fishing in the estuary can also prove to be an extremely rewarding experience with decent sized grunter, salmon, stumpnose bream, rockcod, shad, and barracuda mostly being pulled out there.
Other attractions in the area include tours of the various Anglo-Zulu war battle field sites, and keen golfers can squeeze in a few rounds at the Amatikulu country club.
The Sunbird Guesthouse & Events Venue Map:
Other Accommodation near The Sunbird Guesthouse & Events Venue:
Accommodation options within 8km from The Sunbird Guesthouse & Events Venue include: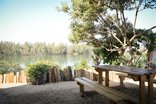 The Hatchery is a deserted old prawn farm on a river mouth and coastal reserve on the KZN North Coast. The facility has been "lightly" renovated - the end result is a unique blend of comfort and rustic cool. We are self catering accommodation.
From:
R650.00
per unit, Max: 2