Located on Kwa-Zulu Natal South Coast just a few kilometres short of Port Edward and a short walk through the estate to the Idyllic Silver Beach.
The Estuary Country Hotel was originally built in 1941 as a Manor House in the Cape-Dutch style for a wealthy family. It has been cautiously transformed into a beautiful and private Hotel, Restaurant, Spa & conference centre. Its genuine design and harmony of proportions, immediately reflects the work of a master builder.
Weddings
The Estuary Country Hotel with its old world ambience, exquisite sea and estuary views, rolling lawns and beautiful gardens provide the perfect setting for the wedding of a lifetime.
With the Admiral Function Room catering for up to 250 People, you and your guests will be able to enjoy the dining experience, relax in the tranquil settings, celebrate your marriage with a party and then sleep well in our indulgent and luxurious bedrooms.
There is no doubt that this is your very special day and you can manage it in such a way that it reflects you and your partner`s personality.
Restaurant
Established in 1996, the Fish Eagle Restaurant rapidly became one of the top five dining venues on the South Coast. Our head chef is renowned for his ability to produce fabulous cuisine and will take you along an unforgettable taste experience.
Our menus emphasise the goodness of fresh, natural foods, carefully prepared and beautifully presented. Local produce and seasonal ingredients feature strongly. A superb selection of international and local wines will compliment your meal perfectly.
Whether for a private dinner, special celebration or just a casual dinner with friends let the
Fish Eagle Restaurant be your venue of choice.
Conferences
The Estuary Country Hotel offers comfortable naturally lit conference rooms, helping you to focus on business whilst away from the day to day stresses of the workplace. It`s easy to make decisions, develop strategies or motivate the team when based in the right environment.
We have 2 conference rooms which are fully air conditioned and can accommodate 100 and 150 delegates. The beautiful natural surrounds lends itself to team building and leisure activities. Let us take the stress out of organizing your next conference.
Wellness
The Estuary Country Hotel prides itself in having developed a fully integrated Beauty Spa, managed by a highly professional therapist. This tranquil haven offers the guest Holistic therapy, Hydrotherapy, Skincare therapy and Professional Make-up.
A Partnership treatment room is available to those who are wanting to be pampered with their loved one and allowing our guests to indulge in our relaxation room, this is where our hot Jacuzzi bubbles away and our Inferred Capsule detox`s the body . Our team have come up with a number of Spa Escapes to suit everyone`s needs.
Rooms:
Relax and unwind in one of our luxurious bedrooms designed with comfort and elegance in mind.
Sleep comes easy in one of our sumptuous beds, which we believe to be a very important part of your stay with us. Wake up to the beautiful views of the sea or estuary and the smells and sounds that are truly Africa.
We offer a total of 44 ensuite bedrooms, all air conditioned with private balconies. Our exclusive honeymoon suite is a must for newlyweds
The Estuary Country Hotel Activities:
There is so much to do; you'll eventually run out of time. Sun bathing on Port Edward's protected Silver Beach, from where local fishermen launch their boats in the morning.
Other sporting facilities in the local area include angling, deep sea fishing, jet skiing on the Umtamvuna River, Scuba Diving, Tennis, Horse riding and bowls.
Nature lovers can hike in the Umtamvuna Nature reserve or go bird watching- there are 386 species recorded on KwaZulu Natal's South Coast. Visit the magnificent Oribi Gorge and its view points.
For those interested in Zulu heritage, cultural tours come highly recommended. Here you will meet artists, crafters, explore a songoma training ground, stop off at a shebeen and enjoy a traditional Zulu lunch.
The Estuary Country Hotel Map: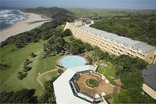 Wild Coast Sun Resort and Casino offers 4 star accommodation and golf at one of the top championship golf courses in Southern Africa.
From:
R930.00
per person sharing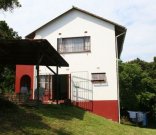 This is a fully equipped 4 bedroom, self catering beach house in Munster, 15 minutes from Margate. There is a private beach only 100m from the house.
At Clearwater we strive to offer an all round, unique encounter with your natural environment where nature is your host. Our guests are prepared to do without television and formal structures around them.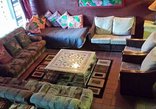 This unit consists of four bedrooms, two bathrooms, a fully equipped kitchen, private splash pool and barbecue area and is located 700 m from the main beach in Port Edward, KZN. This self catering unit can comfortably accommodate 8 guests.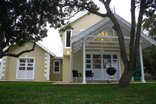 This fully furnished villa is situated in Caribbean Estates, a unique private resort in the tropical setting of South Africa's KwaZulu Natal South Coast, about 4 km north of small holiday town of Port Edward.