Postmasburg, a town in the Northern Cape about 170 km east of Upington, is the centre of the sheep and game farming community.

Postmasburg Accommodation listings with guest ratings, grading and rates - request a quote and book online. Whether on holiday or for business travels, browse Postmasburg Accommodation listings to find your ideal accommodation.

Filter the results for accommodation in Postmasburg by type:
Accommodation in Postmasburg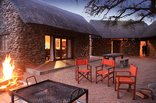 This reserve in the Kalahari is spectacular, as it is a 3500 ha island of dazzling white sand encircled by the sea of conventional Kalahari red sand.