Nambiti Plains Private Game Lodge
, a Five Star African Eco Lodge, lies nestled within the smouldering beauty of a picturesque landscape of the spectacular Nambiti Game Reserve, a private Big Five bush retreat and game conservancy set on 20,000 acres of malaria-free bushveld in KwaZulu Natal.
The abundance of natural water, perennial rivers and beautiful waterfalls on the Sundays River make Nambiti a unique sanctuary attracting several rare bird species and an enviable array of raptors and vultures.
Nambiti Plains Private Game Lodge
is just 3½ hours from Johannesburg and 2½ hours from Durban.
Experience the romance, adventure and excitement of Africa...
Imagine watching the sun set over the horizon whilst you capture the moment of a pride of lions stalking their prey or watching a rhino strolling to the water hole for an afternoon drink or the buffalo silhouetted against an aging sky.
Admire the leopard with its beauty and graceful strength. Watch the Great African Elephant family as they make their way over the plains; or watch as the cheetah, lithe and agile crouches, patiently waiting...
Accommodation at Nambiti Plains Private Game Lodge
Nambiti Plains consists of 5 luxurious suites; one of which is our family suite, which can accommodate 4 people. The family unit consists of one building, a common entrance leading to two totally separate and private rooms; the two rooms are divided by a solid packed stone wall. All rooms have private verandas fitted with a table and two chairs as well as two sun loungers. All rooms are available as ¾ size twin beds or XL king. We regret we cannot accommodate triple rooms. Nambiti Plains can accommodate 10 people, however we can book 16 extra at a neighboring lodge. Our swimming pool at the main lodge has wrap around decks and overlooks our waterhole. Main lodge has bar, lounge and dining facilities as well as limited internet.
Room Facilities:
Overhead fans; under floor heating; hairdryers; limited cell phone coverage; no internet facilities; mosquito nets; mini bar; tea and coffee facilities; laundry facilities; bath tubs; indoor showers; outdoor showers (except family unit).
Daily Itinerary:
Times will change due to seasons.
- 05:45 Wake up call
- 06:15 The bush awaits
- 09:30 Breakfast
- 10:30 Time to relax
- 13:30 – 14:30 Lunch is served
- 16:30 Head out into the lazy afternoon
- 18:30 to 19:00 Arrival back to a romantic camp
- 21:00 Quiet reflection
Activities at Nambiti Plains Private Game Lodge:
Visit the Cheetah Breeding Project for an informative tour that covers the history behind cheetahs, the biological make‐up and the reasons behind them being so endangered. In addition, spend some quality time getting to interact and understand the beautiful nature behind these animals.
The Project also occasionally hosts other animals including servals, wild cats and caracals.
Please note that the intention behind the Project is to release all animals back into the wild, so please talk to your ranger as to which animals are available for viewing and interaction.
During the summer months, the dams and rivers are alive with a variety of Large‐Mouth Bass, Small‐Mouth Bass and Blue Gill.
Relax and take a break for an hour or two with a rod in one hand and beverage in the other and immerse yourself in the tranquility and sounds of the bush.
Fishing is on a catch‐and‐release basis.
The war of the Zulu Kings and the British Empire took place in the hills surrounding Nambiti Game Reserve.
If you wish to explore the battlefields of this momentous occasion for a day or even for a few days for a more detailed approach the opportunity is available.
The game drives cover the history of the Battle of Elandslaagte as this is located within the reserve. Recommended stay for the options below is a minimum 3 days ideally for full relaxation 4 days.
Tour 1 – Isandlwana and Rourkes Drift
Tour 2 – Battle of Blood River and Talana
Tour 3 – Ladysmith Siege, Battle of Colenso, Cemetry and Gun Hill and Spionkop
Join our well qualified Battlefields guide as he brings you into the story of unfolding events that occurred in various battles ranging in dates from the 1879 Anglo- Zulu wars to the 1899-1902 Anglo Boer Wars. These are full day tours with lunch in between and a fountain of information. Please note that with these options you do miss 2 game drives.
While on your safari (night time safari?), your guide will take the opportunity to discuss the night skies. The Milky Way is a phenomenal sight to behold on a clear night and the plethora of constellations such as Orion, Taurus the Bull, the Southern Cross, Scorpio and many others that will keep you in wonder.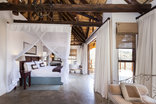 Esiweni Lodge is situated in the malaria-free, Big 5 Nambiti Game Reserve. Our unique cliff top position offers you a dramatic view over the Sundays River whilst you are relaxing on your private deck or having an outdoor shower.