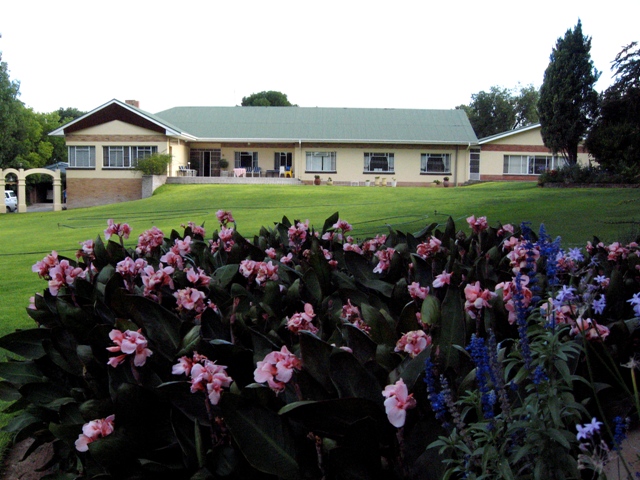 Mieliefontein Karoo Guest Farm
is situated in the Karoo Gariep Hippo Conservancy, where the only hippos in the Karoo dwell.
This vast 12 000-hectare Karoo farm is halfway between Johannesburg and Cape Town in the Hanover district. Here sheep and cattle are raised and guests are offered one-day tours to interesting spots on and around the farm.
The farm is known for its park like gardens and beautiful farm house. Elma is one of the best chefs in the Karoo and you might have heard of the food before you you`ve learned about the accommodation.
The rooms are unique furnished with antique pieces, collected over a lifetime. Mieliefontein is a working sheep and cattle farm.
We are halfway between Johannesburg and Cape Town, also between Upington and the Garden Route. We are 8 km off the N1 and 1.5 km off the R389.
It is a peaceful surrounding and you will find the pool rewarding after a good days driving. We offer three course dinners and breakfasts.
Walks, horse riding, birding, photography and hippo drives can be enjoyed.
Accommodation at Mieliefontein Karoo Guest Farm:
Spacious bedrooms are en suite, and one has a private bathroom.
Mieliefontein Karoo Guest Farm Activities:
Gardens, birding, Karoo hippos, bushman paintings.
Mieliefontein Karoo Guest Farm Map:
Wow! We had a great view with a beautiful garden and the food was very delicious. I would definitely go back again.
Mieliefontein is our most favourite place to stay when over nighting on our way to Cape Town. Elma and her family are excellent hosts. Our room was most comfortable. We so enjoy the beautiful garden. Its like an oasis in the middle of a desert. We spent a pleasant evening round the dinner table with the other guest. Good food and pleasant company.