An all year round safari destination....
Madikwe Safari Lodge is situated in one of South Africa's largest and malaria-free sanctuaries.
The Reserve offers a rich biodiversity of mammals, such as Africa's Big Five, cheetah, wild dog, brown and spotted hyena and oryx.
The area has a diverse geology and broad mix of habitats.
The Lodge offers intimate accommodation with sweeping views over the game-filled plains with the Dwarsberg range forming a purple-hued backdrop.
Pamper yourself and indulge in a relaxing and revitalising treatment with our qualified therapist in the luxury and privacy of your suite
Gate entry/fees:
- R150 per adult and R60 child per stay (subject to reserve changes)
- Madikwe Reserve entrance fees are payable per person directly at the Lodge and will be added to your extra's bill
- Please drive carefully and be aware of village pedestrians,their children and domestic animals
- There are always a number of speed traps with traffic police along the way, so please be sure to follow the speed restrictions
- The elephants at Madikwe Game Reserve must be treated with respect, so please keep a safe distance and, don't get out of the vehicle for any reason as one is never aware of who may be watching!
- Please take note that the gate opens at 06h00 and closes at 21h00 (please advise the Lodge if you will be arriving outside of these times so that the relevant arrangements can be made)
Rooms:
Lelapa Lodge
- comprises of 12 suites.
Each suite has a private plunge pool, airconditioning, fan, fireplace, safe, en-suite bathroom with in-and outdoor shower
This lodge is suitable for disabled guests (with assistance)
Children of all ages are welcome at Madikwe Safari Lodge's Lelapa Lodge.
Dithaba Lodge
- comprises of 4 suites.
Each suite has a private plunge pool, airconditioning, fan, fireplace, safe, en-suite bathroom with in-and outdoor shower
This lodge is suitable for disabled guests (with assistance)
Children are allowed if the lodge is booked exclusively
Services at extra cost:
- Babysitting
- Laundry
- Kosher food (by prior arrangement)
Wi-Fi: Free in Public Area
Satellite Television: Public Area only
Madikwe Safari Lodge Activities:
Madikwe's game viewing is of a very high standard, aided by the fact that all guides are in radio contact with one another, and provides regular sightings of zebra, Impala, wildebeest, giraffe, warthog, white rhino, lion, wild dog, elephant, white rhino, brown hyena, and spotted hyena.
Leopard sightings in Madikwe have always been a topic of discussion but the sightings are becoming a lot more frequent as individuals are becoming more relaxed with the presence of vehicles in the area. Along with Buffalo and Black Rhino, Leopard are now seen fairly regularly in the reserve.
Languages of Field Rangers: German, French, English, Afrikaans
Please advise us of your estimated time of arrival and note that Winter (May to September) game drives leave at 15h30 and Summer game drives at 16h30 so try make it to us before then.
Excellent birdwatching with over 350 bird species.
The best bird-watching period is from October to April.
Madikwe Safari Lodge Map:
Health & Climate:
Weather – The climate is typified by hot wet summers (September to April) and cool dry winters (May to August).
Temperatures average around 25°C (77°F) but can get very hot during heat waves in mid-summer and extremely cold at night in mid-winter.
Rainfall – Classed as a semi-arid region, rainfall amounts to about 500 mm (19.5 inches) per year, with most of this falling in short, sharp thunderstorms in the late afternoons or night, between November and March.
Temperature – Summer: 25°C (77°F) to 40°C (104°F); Winter: 3°C (38°F) to 23°C (73°F).
Best time to travel – All year round; Best game viewing from June to October; Best birdwatching from October to April.
Guest Rating:

(12 reviews)
Only lodge in the Big5 malaria free Madikwe Game Reserve offering a genuinely rustic wilderness experience - at affordable prices. Oil lamps, safari showers, meals cooked on an open fire and raised wooden cabins promise guests a true safari adventure.
From:
R2295.00
per person sharing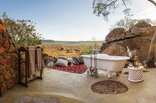 Traversing over 75,000 hectares of true, untamed Africa and set in magnificent koppies amongst boulders, Madikwe Hills gently ebbs to the pulse of Africa's drumbeat. The luxurious suites are ingeniously placed amongst the boulders.
From:
R7550.00
per person sharing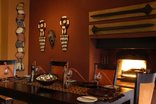 Situated in the heart of Madikwe Game Reserve on the border of Botswana, the Madikwe River Lodge invites you to share the wildness and splendour Mother Africa in exquisite comfort.
From:
R4100.00
per person sharing
Jaci's Safari and Tree Lodges are Game Lodges in the Madikwe Game Reserve. We are 1,5 hours North West of Sun City and you can fly/drive in. The Madikwe Game Reserve is Malaria free. It is 75,000.00 hectares and has the "Top 10" and 340 species of birds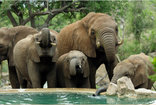 Situated in Madikwe Game Reserve, Impodimo Game Lodge is carved from the hillside, eight glass fronted luxury chalets line a natural spring, each enjoying striking views either from within or from the outdoor shower.