Welcome to Lawhill Luxury Apartments Luxury Apartments.
Regardless of your reason for visiting Cape Town, Lawhill Luxury Apartments is the perfect place to stay, located in the Marina at the V&A Waterfront in Cape Town.
With a world of options and activities at your doorstep, the V&A Waterfront has over 400 shops, stores, restaurants and pubs to offer temporary residents of the area. All these stores and activities are within walking distance of Lawhill Luxury Apartments.
These up market apartments are brand spanking new and offer all the luxuries of a modern city apartment to guests who seek a great space to relax and rest up in. Each of our apartments offer a spacious living area for entertaining guests or simply taking some time out before and after a busy day of exploring and discovering.
At Lawhill we like to make our guests feel welcome at all times. In order to make your stay more enjoyable we will provide you with access to our gymnasium and swimming pool.
We have also got a dedicated reception desk in place which you can use to make bookings with taxis, restaurants and even find more information on local attractions and activities in the area. None of our guests need to worry about cleaning as each and every one of our apartments is serviced.
We will ensure that your every need is catered to, and if you feel you need something that we haven't provided, simply chat to us and we will see how we can better assist you. While new to the V and A Waterfront we are certainly not to new to customer service and the intricacies of hospitality.
Allow Lawhill Luxury Apartments to introduce you to the hospitality and excitement that Cape Town and South Africa has to offer.
Rooms:
All of the Lawhill Luxury Apartments are designed to offer guests sheer comfort and luxury.
Modern and trendy décor will make the most discerning of guests feel right at home. Our apartments feature nothing but the best, so prepare for world class accommodation at an affordable rate! While each apartment has its own appeal they all offer the following basic features for your enjoyment:
• 24 hour security
• Satellite television
• Wireless internet access
• Under-floor heating
• Air conditioning
• Fully equipped kitchens with tumble dryer, washing machine and dishwasher
• Great views of the marina, the canal and the nearby hotels
• Outside balconies and patios with comfortable furniture
• Underground parking
• Large open plan lounges and dining areas
Lawhill Luxury Apartments Activities:
Travelling to Cape Town is bound to be an exciting experience, no matter what you choose to do.
Paying a visit to some of the areas local attractions is a must, but if you can get to spend some time at the V&A Waterfront you are guaranteed to have the experience of a life time. The V&A Waterfront has the pleasure of welcoming thousands of visitors through its gates each and every year, and each guest leaves impressed, without fail.
The V&A Waterfront is a major tourist attraction in Cape Town. It is not only a structure to be admired but offers world class shopping opportunities to all locals and foreigners. When spending some time at the V&A Waterfront you are bound to wonder what there is to do. When looking for things to do at the V&A Waterfront, consider the following options:
- Diving at the Two Oceans Aquarium
- Visit the Telkom Exploratorium
- Visit the SA Maritime Museum
- Participate on a clay pigeon shooting cruise with Tigger 2
- Enjoy a harbor cruise or a sundowner cruise
- Enjoy a meal or a drink at one of the many pubs and restaurants
- Go on a helicopter flip over the area
- Take an educational trip to Robben Island
- Experience shark cage diving
These are just a few of the things that you can experience when spending time at the V&A Waterfront. Of course guests can opt to go to the cinema or watch a show or even spend time browsing through the hundreds of art galleries, clothing stores, curio shops and specialty stores that can be found on the waterfront. The V&A Waterfront is said to have over 400 stores to offer its visitors.
Children will simply love the activities and excitement that the aquarium has to offer. Older guests can enjoy one of the many cruises to nearby islands such as Robben Island and Seal Island. Those who simply wish to relax can choose some of the upper level restaurants and put your feet up while enjoying the view of the harbor, canal and busy shoppers below.
There are many things to do at the V&A Waterfront. Chances are that you will not be able to visit each store at once and will probably need to take a few days to explore the whole area. If you are staying on the actual V and A Waterfront then you will know that the accommodation offered here is of world class.
If you are visiting Cape Town for the Soccer World Cup or just for a little vacation, take the time to discover and explore the V and A Waterfront. You will find that this tourist attraction has a great deal to offer you. For convenient accommodation for your visit, contact Lawhill and find out more about their luxury furnished holiday apartments. Stay with Lawhill, stay in style.
Lawhill Luxury Apartments Map:
Grading:

Guest Rating:

(1 review)
The Commodore Hotel offers spectacular views of Table Mountain, Signal Hill, Granger Bay, Table Bay and Robben Island with superb service and excellent cuisine in a secure and friendly environment.
From:
R1735.00
per person sharing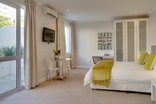 Twelve studios. The studios are designed and furnished in a comfortable modern style. The decor is a chic and understated with fun splashes of colour that compliment the predominantly white interior.
From:
R290.00
per person sharing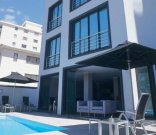 Sugar Hotel & Spa is a chic, sleek, luxury boutique hotel situated close to the V&A Waterfront, the city, restaurants & clubs. It's a very cool, luxurious & spacious hotel that boasts services not often found in a hotel this intimate & discreet.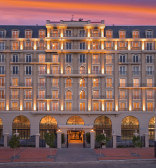 Set against the iconic outline of Table Mountain, with panoramic views of the city and the Atlantic Ocean, it is an enclave of luxury and refinement in the very heart of Africa`s most beautiful metropolis.
From:
R1720.00
per person sharing
Villa Zest is a boutique hotel offering designer luxury accommodation nestled between the bustling Green Point area and Cape Town's very own Soho - De Waterkant. Villa Zest is in walking distance to the V&A Waterfront, and the 2010 football stadium.