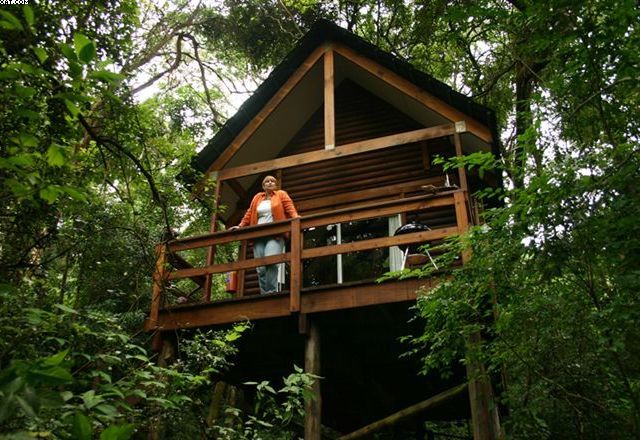 Kurisa Moya, meaning "tranquil spirit", is a Nature Eco Lodge situated in the Limpopo Province at Woodbush, only 4 hours away from Johannesburg. It is 40 minutes from Polokwane and 20 minutes from Magoebaskloof and Haenertsburg. Kurisa Moya is surrounded by indigenous forests and lies below the second-highest mountain peak in the area.
The complete peace and tranquility makes Kurisa Moya unique. Because we are electricty-free, guests cannot be disturbed by tv's, radios and phones. There is no traffic noise – only the incredible sounds of the birds and animals on this spectacular property. This farm has indigenous forests, breathtaking mountain landscapes, whispering grasslands and tranquil farm dams. Whether you choose the Farmhouse, sleeping 10 people or one of the Forest Lodge Cabins in the indigenous forest or the Stone Cottage with views, Kurisa Moya has it all.
Accommodation:
Forest Lodge Cabins
Two self-contained wooden cabins sit high in the canopy of the indigenous forest. From your deck, three metres up, you are eye-to-eye with the Samango monkeys picking the ripe fruit from nearby trees and can watch the crimson flash of Knysna louries soaring past. You may see bushpigs and bushbuck drinking from the stream below, or vervet monkeys peering in your bedroom window.
Each cabin has a fully-equipped kitchen and a bathroom with a view. The cabins are perfect for a couple but sleep up to four, with a double bed downstairs and two single beds in the loft suitable for kids.
You can gaze into the forest from your deck, or enjoy the comfort of the fireplace in colder weather. Either way, the views of the forest are spectacular and the privacy complete. The tranquility is only broken by the cries of the Samango monkeys by day and bushbabies and wood owls at night.
The Forest Lodge cabins are luxurious inside and are creatively decorated to emphasise the beautiful surroundings. Enormous windows give you panoramic views of the forest canopy, whether you are cooking up a storm, snuggled up by the fireplace or lounging in bed.
You will gaze out onto century-old trees with moss-covered branches and forest streams surrounded by ferns, clivias and orchids. Here you can truly regain your spirit as you tune in to the sounds of nature all around you. You can cook for yourself or book dinner, lunch or breakfast which are delivered to your door.
The cabins each have:
1 double bed and 2 single beds in the loft room overlooking the double bed below
Fully-equipped kitchenette with stove and oven, fridge and freezer,
Weber Braai on the deck and braai facilities downstairs
Bathroom with shower
Solar lights
Fireplace with firewood provided
Fully serviced.
Meals available on request
Farmhouse
The large, comfortable farmhouse, is situated so as to offer spectacular views of the farm. It sleeps up to 10 people (5 en-suite bedrooms), has a fully-equipped kitchen, two bathrooms and a wide verandah on two sides. The house is designed for socializing so the kitchen, huge lounge and dining room make entertaining a pleasure.
The farmhouse is tastefully decorated with artifacts from the area and local artists' paintings. There is also a unique bathroom where guests can shower in warm sunlight under an accacia tree, looking out onto ferns and terraced gardens.
The farmhouse is cool in the summer and is warmed by cosy fireplaces during winter. Your group will find complete privacy and tranquility up at the farmhouse and gardens. The Farmhouse is great for a big family or a group of friends. Dinner, breakfast or lunch can be requested in advance.
The Farmhouse offers:
5 en-suite bedrooms (2 with fireplaces) (2 double rooms, 3 twin rooms)
Huge kitchen – fully equipped for 10
Lounge and dining room with fireplaces
Huge stoep running around the house
Braai facilities outside and on the stoep
Solar lights, Gas lamps and candelabras provide a wonderful ambiance.
Fully serviced. Meals available on request
Thora Boloka Cottage
Thora Boloka Cottage is on the edge of a bushveld - grassland area overlooking the Kudu`s River Valley so there are spectacular views deep into the valley and the mountains beyond. Thora Boloka is an earthy venue in a bushveld-grassland area.
There is a double bedroom downstairs and 4 single beds in 2 loft rooms upstairs. Perfect for a family with kids. Thora Boloka has an outdoor (and indoor) shower and hand-made washbasins. There is a large patio around the cottage and it is a totally private venue.
It is close to the indigenous forest and all the walks. Thora Boloka has a cozy fireplace, a weber braai on the patio and braai facilities in the garden. Firewood is provided. Kurisa Moya is electricity-free so the lighting is solar, gas and paraffin lanterns.
Thora Boloka has a gas stove and oven, a large fridge with a freezer and hot water is via the gas geezer. The venues are serviced daily.
Thora Boloka Cottage has:
1 double bed and 4 single beds in loft rooms overlooking the lounge and dining room below
Fully-equipped kitchenette with stove and oven, fridge and freezer,
Weber Braai on the deck and braai facilities in the garden
Bathroom with shower and outdoor shower
Solar lights
Fireplace with firewood provided
Private garden
Fully serviced.
Meals available on request
Guests can regain their spirit in the beautiful farmhouse or the Forest Lodge cabins, high in the canopy of the indigenous forest. These venues are private and completely tranquil.
With walking trails, fly-fishing lessons, bird-watching with South Africa`s top local bird guide, sunset drives, cultural village tours and a closeness to nature, you will find your tranquil spirit restored.
Kurisa Moya Nature Lodge Activities:
Things to do at Kurisa Moya:
Hiking / walking – 7 trails of varying length and difficulty through varied habitats
Fly fishing lessons
Magnificent birding - 250 species and great "specials" with South Africa's top local bird guide
Mountain biking trails, 4x4 Trails.
Sunset cruise to Schnelkop Mountain-top
Cranio-sacral Therapy
Cultural village tour or home-stay
Things to do nearby:
Canopy tour
Magoebaskloof area – forests, waterfalls, trails etc
Haenertsburg Growth Centre – Reflexology, Reiki, Indian Head Massage
Safcol, Kudu's Valley and Louis Changoin Hiking trails, Debengeni Falls
Horse riding, boating, sunset cruise, quad bikes, fishing, microlighting, 4 x 4 trails
Amazing pubs, tea estate and restaurants, Maropa Casino and wildlife centre, Snake Park
Magoebaskloof Spring Fair – arts and crafts
Cycad Forests and the Rain Queen at Modjadi
Organic cheese farm and blueberry farm
Kurisa Moya Nature Lodge Map:
Clothing & Accessories:
Hiking boots if you are planning on walking / hiking.
Binoculars - there are lots of animals and birds.
A waterproof jacket if you are coming in the rainy season.
Health & Climate:
Kurisa Moya is in a malaria-free area.
Stunning setting, complete seclusion and wonderful wildlife. Accommodation perfect.