Dulini Lodge
speaks of a deeply personal wildlife adventure: the quintessential safari experience for the sophisticated traveller. Set in the sanctuary of a riverine grove, Dulini's six exquisite suites welcome discerning guests. The intimacy of the boutique lodge, is ideally suited to indulging the safari dreams of individual adventurers, as well as exclusive parties of guests celebrating special occasions; while the romantic ambience ensures a lavish retreat for honeymoon couples.
Sabi Sands Game Reserve
Reputed to be one of Africa's finest safari destinations, the Sabi Sand Game Reserve is home to Dulini. The 65 000ha Sabi Sand Reserve shares a common 50km unfenced boundary with the Kruger National Park to the east. Two perennial rivers, the Sabi and Sand Rivers sustain the diverse fauna and flora of the area, which enjoys one of the highest and most bio-diverse populations of any reserve in Africa.
With no boundary fences between the Sabi Sand and the Kruger National Park, a great diversity of wildlife is found here, including the Big Five: lion, leopard, elephant, buffalo and rhino.
Game drives traverse an area of 10 000 hectares (24 700 acres) and strict vehicle limits at sightings ensure the exclusivity of your game viewing experience. Off-road driving enables the best possible view of any exceptional sighting and rangers are constantly in touch with each other to keep track of animal movements.
The Lodge:
The splendour of Dulini's setting: Beneath the shade of ancient Ebony and Leadwood trees, the tranquil haven of Dulini is enigmatically embraced by its rich riverine setting. There is a restorative quality to the peaceful atmosphere of the camp, on the banks of the Mabrak River. The symphony of bird song and the passage of wildlife add to the allure of Dulini.
Luxurious lodge: The main lodge, resplendent with deep couches and contemporary African accents spills onto the cool veranda, with views to the wilderness beyond. A welcoming ambience of laid back luxury creates a place of conversation and laughter, while the extensive library of books accommodates those more inclined to quieter contemplation.
The Experience:
Game drives at Dulini Private Game Reserve are taken by professional and passionate rangers and trackers, who have a wealth of knowledge to unravel the intricate nuances of the African bush. Many of them grew up in the area and thus, their knowledge of the environment is unrivaled. All of them are professionally qualified to manage the rigorous responsibilities of the safari experience. It is these characters that will win your heart with heroic stories, wow you with phenomenal bush tales and leave you awestruck by their knowledgeable interpretation of the African wild.
Children
:
Children from 8 years and older are welcome at Dulini. A child is considered 8-16 years old and will be charged 50% of the full adult rate when sharing with one or two adults. Should there be a full camp booking; children of any age will be welcome.
Dulini Lodge Map:
Health & Climate:
Weather:
Summer months are hot and humid (Nov to Dec) followed by hot, but drier, months later in the season (Jan to Mar). Temperatures start to cool slightly (Apr), and winter months are warm with cold nights/dawns (May to Jun).
July to September is very dry with cold night and early morning/late afternoon temperatures. Spring is very dry with hot, dry winds (Sept to Oct).
Rainfall:
The first rains start towards the end of October.
Rains or typical afternoon thundershowers (Nov and Dec), with potential scattered afternoon thundershowers (Apr).
Best time to travel:
All year round, best game viewing from March to October
Altitude:
423m above sea level
Malaria:
Dulini Safari Lodge is situated in a malaria area and necessary precautions should be taken.
Everybody and everything was perfect. We have seen the big five and a special thank to the ranger. Hope to go back for a longer time in the future.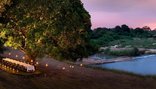 Exeter River Lodge is situated within the Sabi Sand Private Game Reserve which has a reputation that it offers the best game viewing you'll find in South Africa. Over 200 different species occur in abundance and the bird life is fascinating
From:
R9705.00
per person sharing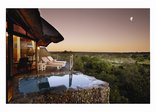 An exclusive 5 Star Luxury experience - In the world renowned Sabi Sand Game Reserve - Award-winning Leopard Hills is located in the western sector of the renowned Sabi Sand Game Reserve, bordering the world famous Kruger National Park.
From:
R9500.00
per person sharing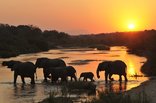 Guest Rating:

(3 reviews)
Situated in unquestionably one of the best game viewing areas in the Africa, the Sabi Sand Reserve, Inyati Game Lodge offers you the ultimate experience combining wildlife and comfort.
From:
R4400.00
per person sharing
Leadwood Lodge is situated in the Sabi Sands Game Reserve boasts 4 new and exciting Ultra Deluxe Suites. All Luxury suites have unique en-suite bathrooms.
From:
R12100.00
per person sharing
Exclusive private Game Lodges in 'Big 5' Sabi Sand game reserve. Luxuriously appointed, with magnificent experiences to last you a lifetime.
From:
R9705.00
per person sharing