Calabash Inn is centrally situated in the heart of Glen Ashley, a small suburb just 10Km north of Durban and 8Km south of Umhlanga Rocks.
Well-established restaurants, shops, Post Office, Library and banking facilities, conveniently surround it, it is only a short distance from the beach and a stones throw from the Sun Coast casino and Beachway golf course.
You can take a 5-minute drive to the largest shopping mall in the Southern Hemisphere "Gateway", and the La Lucia mall for the avid shoppers.
We are also graced by some of the most famous International facilities such as the Kingsmead cricket oval, the ABSA rugby stadium, the International Convention Centre as well as the Durban International Airport.
Secure parking completes your peace of mind. Guests will awaken to the smell of a scrumptious English breakfast awaiting them in our communal dining room that overlooks the sparkling pool and patio with poolside bar.
A leisurely lounge leads out onto a tranquil private garden, complimenting the perfect setting for afternoon teas.
An upstairs bar, together with big screen TV and surround sound, compliments the 20 seater conference facility. Also available are an overhead projector, flip chart and other necessary equipment to host that all important function.
Rooms:
Each of our 8 spacious rooms are equipped with TV, MNet, Ceiling fans, Tea trays, and laundry facilities on request.
Each of our rooms allow you to enjoy the breathtaking sea views and be lulled to sleep at night by the sound of thundering waves crashing onto the beach.
Choose from any of the 8 stylishly decorated and well-equipped en-suite rooms, 2 of which lead onto relaxing patios.
If you however prefer maximum independence, a spacious self-catering family cottage with its own entrance can comfortably host 4 guests for a truly rejuvinating holiday.
Calabash Inn B&B Guesthouse Map:
Located in La Lucia, we offer stunning sea views, luxury facilities and friendly hospitality. We provide private, secure accommodation and also offer packages which cater for the health conscious, making your stay with us is one to remember.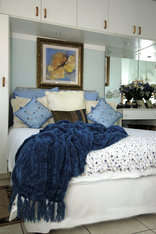 It is a stylish guest house in Glenashley north of Durban easy to find just off the M4 freeway. The house offers 4 luxury rooms and 1 self-catering unit which are tastefully decorated.
Sanchia Luxury Guesthouse takes the concept of the "weekend away" to a new level. Incorporating stylish yet comfortable trends with breathtaking views, this luxurious home-away-from-home caters to the more discerning leisure and business traveler.
Clinch Self Catering comprises 3 units THE APARTMENT has 2 bedrooms and sleeps up to 8 persons. COSY NEST AND COSY NOOK are two 1 bedroom flats and each sleeping up to 4 persons. Very conveniently situated midway between Durban and Umhlanga Rocks.
Beside Still Waters Guest House is set on an acre of beautiful botanic gardens in La Lucia, Durban North, and is conveniently situated close to all major tourist attractions.