Brebner House
is located in the heartthrob of Bloemfontein's student Mecca and Shopping paradise. This tranquil residence offers luxurious accommodation at a very convenient location without sacrificing any peace or privacy. The rooms are all equipped with super-modern bathrooms fitted with the latest up-market fixture, showers only.
As owners we believe a Guest House should have certain qualities to ensure that our guests feel both welcome and spoiled by the offering. Such qualities are captured in the pure Percale Cotton linen and the quality of the beds, our famous abundant breakfast feasts and the quiet privacy when the guests retire to their rooms.
All of the above qualities should form an integrated ambiance through the elimination of small irritating factors that we so often experience elsewhere. For this reason you will find courtesy hairdryers, plugs to charge your phone, beautiful bedside reading lamps and a desk if you need to do that extra bit of homework. If not, you can relax by watching M-Net DSTV.
To round the accommodation experience off, we fitted air conditioning to the rooms, have a well-kept swimming pool and barbeque facility, coupled with safe off-street parking behind remote-controlled gates.
Accommodation at Brebner House:
Room 1:
This air-conditioned room offers a double bed and separate writing desk. The modern bathroom is very spacious and offers a shower facility. Because the room is in the furthest corner of the house and looking out on the swimming pool, it offers a very relaxing feel.
Room 2:
This room is the identical twin to the room above. The bathroom has a shower and the room is air-conditioned with a double bed.
Room 3:
This room is the identical twin to room 1. The bathroom is luxuriously fitted with a shower. A Queen sized bed offers a touch of elegance.
Room 4:
The family room with en-suite bathroom and shower only. This air-conditioned suite offers 3 single beds.
Room 5:
The room is ideal for 2 people sharing a room with the en-suite bathroom and sliding door to the garden. The room has its own en-suite bathroom with a shower, air-conditioned and ceiling fan.
Room 6:
This twin room is a garden suite looking onto the swimming pool with private en-suite bathroom with a shower.
Brebner House Activities:
Other places near Brebner House at 84 Melville Road:
- Mimosa Mall
- Brandwag Shopping Centre
- Medi-Clinic Hospital
- Bloemgate
- 1st and 2nd Avenue's Nightlife
- University
- Hospitals
- Waterfront Mall
Although nothing is really far when you live in Bloemfontein, the above facilities are really all within easy walking distance from Brebner House for your reference. You basically don't need to go any further than this to experience Bloem.
Brebner House Map: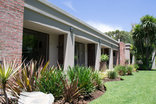 Henmar Guest House is a stylish and modern guest house providing quality accommodation in Bloemfontein. The Guest house is well located near to St Michael's and St Andrews Schools, Grey College, UFS, Mimosa Mall and Bloemfontein Medi Clinic.
From:
R425.00
per person sharing
Grading:

Guest Rating:

(2 reviews)
We have a variety of spacious rooms. Some rooms open onto the garden to let the outside in. All rooms have coffee and tea facilities, Television with DSTV, Air conditioner, Desk, en-suite bathroom with amenities. We look forward to seeing you soon!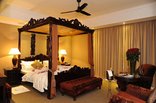 Anta Boga is a special destination among the hotels and guesthouses on offer to visitors here in Bloemfontein, South Africa. Anta Boga which means "Abundance of food", is a place inspired by the myth and wonder of one of the world's most vibrant cultures.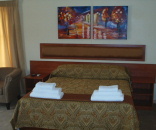 At Adelante Lodge you can discover the charm and elegance of one of Bloemfontein's premiere guest lodges. This Free State Lodge is ideally situated in Brandwag, Bloemfontein. Unknown luxury and tranquillity in every space.
At Alchemy, our aim is to introduce a 'new breed' of guesthouses, where we can revitalize the imagination of our guests.
From:
R330.00
per person sharing