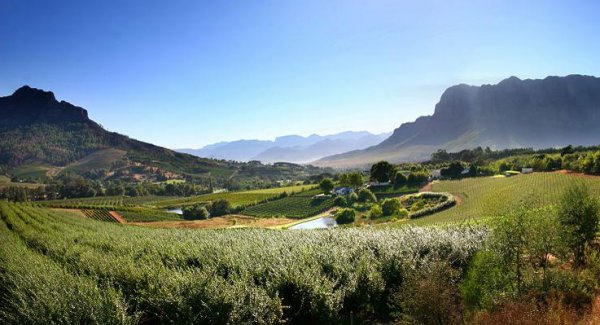 Our visitors are warmly received into this special place of peace and tranquility. You will feel its homely heart and soul as you stand mesmerized before scenery that stretches from here to eternity.
Alluvia gives you the choice of five luxury accommodation suites and two self catering houses with free wireless internet access. Suites are proudly named after particular soil types found on Alluvia's wine farm.
All suites offer a fully stocked mini bar, DVD player, satellite television, wireless internet connection, hair dryer, and amenities (and of course some of the world's finest wines!).
To make your time even more relaxing, you are welcome to enjoy some fly fishing, take the mountain bikes for a ride along the steep mountains or enjoy our PGA golf green for some chipping and putting.
Other services include in room spa treatments, picnic baskets, personal chef, shuttle arrangements and tours can be booked with reception. Please book in advance to ensure availability.
A private ilka wine tasting is included for all guests where you will be able to taste our world acclaimed wines.
Alluvia has a child friendly policy. Children between the ages of 3 yrs - 12 yrs will pay half of the adult price and children under the age of 3 yrs will stay free of charge. Breakfast excluded. Extra bedding such as a cot can be booked upon reservation at an additional cost.
Self catering Houses
Avalon which has a private patio with its own private garden, a living room with a wood burning fire place, kitchen dining area and two en-suite spacious bedrooms. Sleeps up to 4 guests.
Tukulu which has a private patio overlooking the vineyards and valley with a living room area with wood fire place, kitchen, a private double bedded room with en-suite bathroom and storing area, and two bedrooms (one double and one twin) with a sharing bathroom. This unit sleeps up to 6 guests.
Superior Suites
Clovelly is our Honeymoon Suite and the most popular by demand with its 280 degrees view over the valley, vineyards, mountains, dam and pool, spending the evening on the private patio listening to the frogs' croak and sipping champagne is spectacular.
The room has a spa bath with double shower and lounge area with a gas fire place where as the four poster bed king size bed provides a proper ancient atmosphere of romance.
Hutton is our superior suite and has a Super King bed (but can be converted into two three quarter beds) with en-suite bathroom and lounge area with gas fireplace. The private patio offers a unique view over the vineyards and damn where you can sit back with a drink and listen to the harmonious sounds of the birds singing and the frogs croaking.
Luxury Suites
Oakleaf 1 overlooks the whole Banhoek valley area with the vineyards and mountain running into each other. It has a double bed with en-suite bathroom (bath only with hand shower) and private patio.
Oakleaf 2 is our luxury suite with private patio that overlooks the pool, vineyards and mountain. The room has a queen size slay bed with en-suite bathroom and gas fireplace. It represents a modern style.
Oakleaf 3 is a twin bedded room with two three quarter beds, en-suite bathroom and private patio overlooking the pool area en vineyards.
These elegant accommodation facilities are fully serviced and each unit at Alluvia has 100% cotton linen, tea/coffee making facilities, secure safe, satellite television, DVD player and Mini bar facilities.