A gleaming fleet of seven iconic American Airstream trailers have packed up their corndogs and tucked away their picnic blankets to roost on the rooftop of The Grand Daddy Hotel. Here, the quintessential African skies and the alluring outline of Cape Town's Table Mountain are reflected in the polished aluminium of the American Dream.
Peek inside – there's more! Each of the seven trailers has been handed over to some incredibly creative Capetonian soul to find new life through playful, eccentric and dazzling décor interpretations of how life in an Airstream can be.
Your Airstream is enclosed by a tidy garden complete with US Postal Service mailboxes. Watch an outdoor movie on hot summer nights at The Pink Flamingo Cinema and find an excuse to make this the destination for your next gathering of family and friends.
All the Airstreams are air-conditioned, incredibly well-insulated, have hot and cold running water, flushing toilets and showers. For those who want to pimp their park life and flash their trailer trash – or for those who simply want to experience the world's only trailer park penthouse suite - just take the vintage elevator to the third floor, take the rooftop exit and enter the adventure.
Facilities:
* En-suite
* Mini bar
* Satellite TV
* Pure cotton linen
* Room service
* Fully serviced
Trails
Afro-Funk
:
The trailer's earthy colours set the tone for an African experience – minus the wildlife. Soudien was inspired by the street fashion of Cape Town and this is represented in her careful attention to texture.
Dorothy
:
Pratt reinvents the airstream with a Duck-egg-blue foundation colour and then covers every inch with white polka dots.
Earthcote moontides Airstream
:
Freeworld's Earthcote Paints have collaborated with The Granddaddy on the Airstream project, supplying edgy coatings and working in close association with project developer Jody Aufrichtig and his team of artists.
Love of Lace
:
Tracy's signature colour pink is the key inspiration for a feminine appeal and an intriguing seclusion that says boudoir not bordello. Lynch is inviting iconic South African women to select heart-stoppingly beautiful lingerie which will be decoratively framed for added effect.
Goldilocks and the 3 Bears
:
Uses the Airstream as a mini-set in which to tell the much-loved bedtime story of a little blonde girl and some bears. The airstream will mirror that of the times-3-theme of the actual fairytale.
Pleasantville
:
Pleasantville by Liam Mooney, creative director and designer of Whatiftheworld (and also Creative Director of The Airsteam Penthouse Park project) A utopian 50's style heaven incorporating a wide variety of period-piece colours and fabrics.
Airstream Penthouse Trailer Park Activities:
- Not to blow our trumpet, but Cape Town is also one of the world's Five Bluest Skies destinations (www.expedia.com), the Ethisphere Institute named the Mother City one of the World's 20 Most Sustainable Cities and we are the Third Best Food City in the World according to The Lonely Planet's Blue List.
- So what is all the fuss about? Cape Town is dramatically located between sea and mountain. To the West are the sunbleached beaches and azure skies of the West Coast and to the right are the Fynbos-to-forest stretches of the green and gorgeous Garden Route.
- Cape Town itself offers a cosmopolitan mix of nightlife, creativity, craft, shopping and gourmet food, whilst nature spoils you with beaches, mountain walks, endless views, birdlife and diverse flora.
- As much as Cape Town has an African flavour and an easy-going nature, it also boasts a world class infrastructure, excellent communication systems, good roads and a service-orientated mentality.
- Before and during your stay at the Grand Daddy, we can assist you in creating tours, adventures and experiences to maximize your visit. Welcome to Cape Town - its beautiful here!
Airstream Penthouse Trailer Park Map:
The Strand Tower hotel is located on one of the main roads in Cape Town in the central business district. With easy access to the convention centre, harbour and V and A Waterfront.
From:
R800.00
per person sharing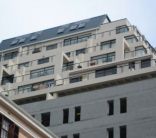 The Decks at 67 on Long Street is luxury city living, maximising the incredible views that make this one of the world?s favourite holiday destinations.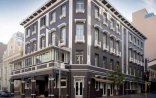 The rooms are subtle, stylish and silvery. Air-conditioned, en-suite and entertaining. Luxe out in your en-suite marble bathroom as you daydream about adventures, seeping in the ebb and flow of memories that you want to hold onto forever.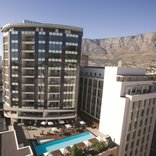 This modern hotel offers the definitive city lifestyle with a choice of luxurious apartments, various leisure options and a wealth of retail facilities in the heart of Cape Town.
From:
R1270.00
per person sharing
The outstanding brand-new Greenmarket Place Apartment in the middle of suave&trendy Cape Town City Centre (2km from the V&A Waterfront), in revamped building situated right on the famous bustling historic Greenmarket Square, with a view of Table Mountain.